100% PURE, NATURAL, AUSTRALIAN-MADE SKINCARE
SIMPLE SKINCARE FOR COMPLEX COMPLEXIONS
The ONNE collection enables the skin to respond seamlessly to environmental, hormonal and ageing factors. Using only the best nutrient-rich, nature- powered, all-natural ingredients. The ingredients are all carefully studied to give us a deep understanding of their symbiotic relationship with our natural world and how they will benefit the skin. Each component added in the ONNE collection has extraordinary healing abilities.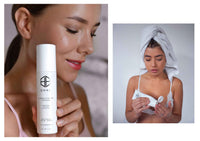 LOVE FROM OUR BEAUTIFUL ONNES
If you are looking for clean, natural and effective products then ONNE is definitely the brand to try! I originally fell in love with their face mask and now own one of everything else! Their products are so beautiful, made from natural products, but are so effective!

Laura Caitlin Hughes
For starters, I love that ONNE carefully curated and designed their products with potent ingredients to help balance, replenish and rehydrate the skin which seamlessly and miraculously, works to enhance the skins complexion. Based on my results, ONNE Body Balm is the ultimate balancing balm that truly lives up to its claims- The idea of using an anti inflammatory product that soothes sunburns, painful bug bites and contains a powerful blend of coconut, cocoa butter and aloe vera gel to reduce the appearance of dry skin and eczema has become my go-to body product. ONNE's creamy moisturizing texture is a must have for adults, children and the ultimate essential product for any household.  

Gina Brooke
I've tried the Complexion Cream, Clarifying Cleanser, Moisturising Mask and the Skin Sparkling Sponge. Really love all of these products, they're really natural and don't irritate my sensitive skin. The Clarifying Cleanser smells like a holiday and leaves my face feeling so clean and hydrated. The Moisturising Mask is also heaven.

Millie Bac
I love the cleanser with Onne Beauty.  The fact that my skin feels amazing after I use the coconut cleansing wash and that I know what I am putting on my skin is of the highest quality! I love how it smells divine and makes a ritual out of an everyday routine...but even better how it makes me feel! My skin is hydrated and refreshed without feeling like I have put a bunch of product and chemicals all over. It takes so little and it goes so far.

Dalina Michaels
I have been using the cleanser, moisturiser and mask for a couple of weeks now, and I have fallen in love with all of them. All the products are so hydrating and give my skin a healthier look.

Ella-Kaisa Heikkinen
I have absolutely fallen in love with all of the ONNE products! I have sensitive skin and everything is so gentle yet effective. My love that all of the ingredients are natural and the smell is so fresh. I also suffer from dry skin on my body and after one application of the body balm I saw such a significant improvement in the texture and tone of my skin. I am so glad to have finally found a natural skincare line that actually warrants results!

Amanda Lee

MOISTURISING MASK
This luxe mask has a Kaolin Clay base, and is designed to soak up excess oils while hydrating and soothing dry, irritated skin. Packed with nourishing and skin-repairing properties it also features; Mountain Pepper Berry Cellular Extracts which are naturally multifunctional and deliver powerful antioxidants, anti-inflammatory, anti-acne and skin conditioning properties. It also supports Vitamin C and collagen production. Emu Apple packed with nine individually potent phyto-active compounds they have been shown to have multiple skin benefits including collagen support, hydration and absorption.And Riberry which is packed with trace minerals and abundance of antioxidants, which help purify, regenerate and repair the skin.