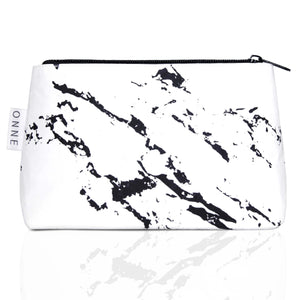 simple
chic
eco-luxe
With its chic marble pattern and minimalistic design, the ONNE Cosmetic Bag is sure to become the newest staple in your suitcase. Uniquely created using recycled washable paper that happens to be splash-proof, you'll never have to worry about your precious products getting wet the next time you're using your favourite face mask or scrub. Protect your ONNE treasures from rain, sea spray, and accidental spillages during your daily beauty routine abroad. 
The bag itself features a prominent black zip, fully lined interior and an effortless design that is sure to turn heads. This product truly encompasses ONNE's cruelty-free, all-natural vision while still being stylish, practical and aesthetically appealing.
Machine washable - gentle setting.

18cm x 12cm